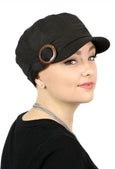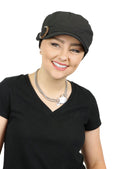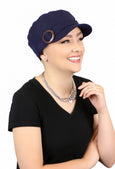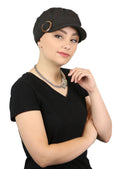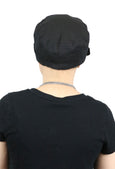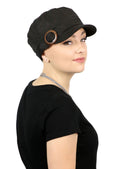 
Linen Military Cadet Hat For Women with Small Heads 50+ UPF Sun Protection CLOSEOUT!
$9.99 $22.99
On Sale! $9.99! CLOSEOUT!
Scroll down for video
LINEN MILITARY CADET HAT FOR WOMEN WITH SMALL HEADS with 50+ UPF sun protection makes a cute chemo hat for women and teens with hair loss. This cute hat for women is a great choice in cancer headwear

MOST BASEBALL CAPS FOR WOMEN, CADET HATS AND CABBIE HATS don't have enough coverage for hats for cancer patients. This hat is designed to give you full coverage over the ears and neckline
THE SHORT, 2 INCH BILL IS NICELY CURVED to shade your eyes and frame your face. This cute summer hat for women with small heads is easy to wear indoors or out for work, school or a walk in the park
FITS HEAD SIZES 19.5 TO 21 INCHES, as measured around the hair line. Covered elastic in the back for a secure fit that will not slip on a bald head. Soft, breathable linen outer. Fully lined with 100% cotton
TIRED OF SHOPPING IN THE KIDS HATS DEPARTMENT? This hat is for you. Women with small heads who want adult style.
HAND CRAFTED WITH CARE. Hand wash, air dry. Available only from Hats, Scarves & More

Follow this link for more information on how to measure your head
Related products
Surprise her with a gift card!
A gift card is a perfect way to show your support and let her choose what she wants. 
Shop for Gift Cards